When you're shopping for jewelry for a woman, whether she's a friend, a significant other, or a spouse, you want to find something that reflects her personality. You want to buy her a necklace or a pair of earrings that you know she's going to wear, not something she'll put in her jewelry box and never put on (except when you come to visit). At Free Reign in Conshohocken, we have a fantastic selection to choose from, and we offer options from great brands such as Kendra Scott, Moonglow, and many more.
What Type of Woman Is She?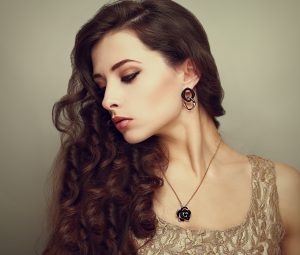 If you're in a relationship with this woman, you most likely know quite a bit about her. When picking out jewelry for her, keep in mind what kind of personality she has. Is she boisterous and outgoing, or is she reserved and introspective? Does she enjoy getting dressed up for nights on the town, or would she rather cozy up with a good book or a favorite movie on a Saturday night? Knowing what type of woman you're buying for will help inform your decision on which necklace or bracelet will be best for her. If you need help, our staff is always happy to assist.
What Style and Shape Will Be Best?
Every woman has a different figure, and every woman prefers different styles and shapes of jewelry. Some women prefer long, dangling earrings, while others prefer post and stud options. She also knows which jewelry pairs best with a certain outfit or ensemble, so be sure to pay attention to what styles she wears with an evening gown versus what she wears on the weekends when she's attending a casual get-together. Also take note of what her favorite colors are, since we have plenty of bracelets, necklaces, and rings that feature fun hues and unique designs that are perfect for certain women. If she prefers the classic look of silver or gold, we have plenty of those options as well.
What's the Occasion?
When buying jewelry for someone, it's always important to keep the occasion in mind (as well as your relationship to the recipient). If you're a husband buying a birthday gift for his wife, you can opt for something more expensive and more classy. If you're purchasing a gift for a friend, think about finding something that symbolizes your friendship (and that also doesn't send the wrong message). Jewelry can be perfect present, as long as the intent behind it is clear and you know it's something that your friend or significant other will wear and appreciate.
If you're shopping for the perfect gifts this holiday season, or a special woman in your life has a birthday coming up, come to Free Reign today. We'll show you a number of amazing options, and gladly answer your questions regarding any piece of jewelry in our store. We have something for every woman, and we'll do our very best to make sure you walk out of our boutique with the perfect gift in your hand.